Supercharge Your Real Estate Investing Business Today!
Join Our Zoom Master Class to Unlock Your Full Potential and Achieve Growth With Our Proven 400% ROI System - Join Hundreds of Successful Real Estate Investors Now!








3 Big Real Estate Investing Inhibitors Holding You Back

Are you tired of struggling to maintain a consistent pipeline of off-market deals and sales opportunities?

Lack Of Time Optimization
Do you feel like you're creating another job for yourself instead of focusing on growing your business and achieving steady growth?

Are you struggling to become a data and marketing guru and finding it hard to target the right audience and optimize your marketing efforts?
NOTE: One of these 3 big inhibitors could mean success or failure. Don't be part of the 97% of unprofitable investors who never solve these issues. Join our 60min webclass for a proven pathway to avoid them all.
To Skyrocket Your Real Estate Business And Unlock Your Full Potential You Need Avoid These 5 Mistakes

Not Prioritizing Vision & Design
Without a clear vision and prioritized design, real estate investors may miss opportunities and face growth struggles. Design plays a crucial role in strategic planning and execution.
The Solution: A properly formulated plan with concrete steps to attain desired objectives. A properly formulated plan with concrete steps to attain desired objectives.

Inadequate Market Analysis
Using irrelevant or inaccurate data and neglecting market analysis can lead to missed opportunities and poor investment decisions. Without proper analysis and interpretation, mistakes are inevitable.
The Solution: Unlimited data access and analysis to help target the right markets and identify opportunities.

Generic direct mail messages won't work. Instead, use targeted offers that address the recipient's pain points. Also, don't overlook design and delivery. High-quality design and accurate mailing lists are important. Follow up and consistent execution is crucial.
The Solution: Implement trackable, personalized, designed, delivered + follow-up for successful direct mail.

Disregarding Customer Experience
Not prioritizing customer feedback, value proposition message, omni-channel presence, and mobile optimization can hurt business.
The Solution: Prioritize customer experience: collect feedback, refine value proposition, be omni-channel present, and optimize for mobile.

Proper data analysis is key to business success. KPIs must be tracked for insights to improve growth. Don't ignore regular dashboard updates. Remember to act on insights, not just observe.
The Solution: 360-View Dashboard to track KPIs and act on insights for business growth.
Presented by: Alicia Jarrett
Unlock the Secrets to Scaling Your Real Estate Business with the 7-Day Deal Flow Playbook - Register Now for Free Bonus Access!
Unlock the secrets to scaling your real estate business with the free 7-Day Deal Flow Playbook. This comprehensive guide provides step-by-step directions, pro tips, and checklists to streamline your campaigns and yield real results. Register now to access the playbook and take the first step towards growing your business!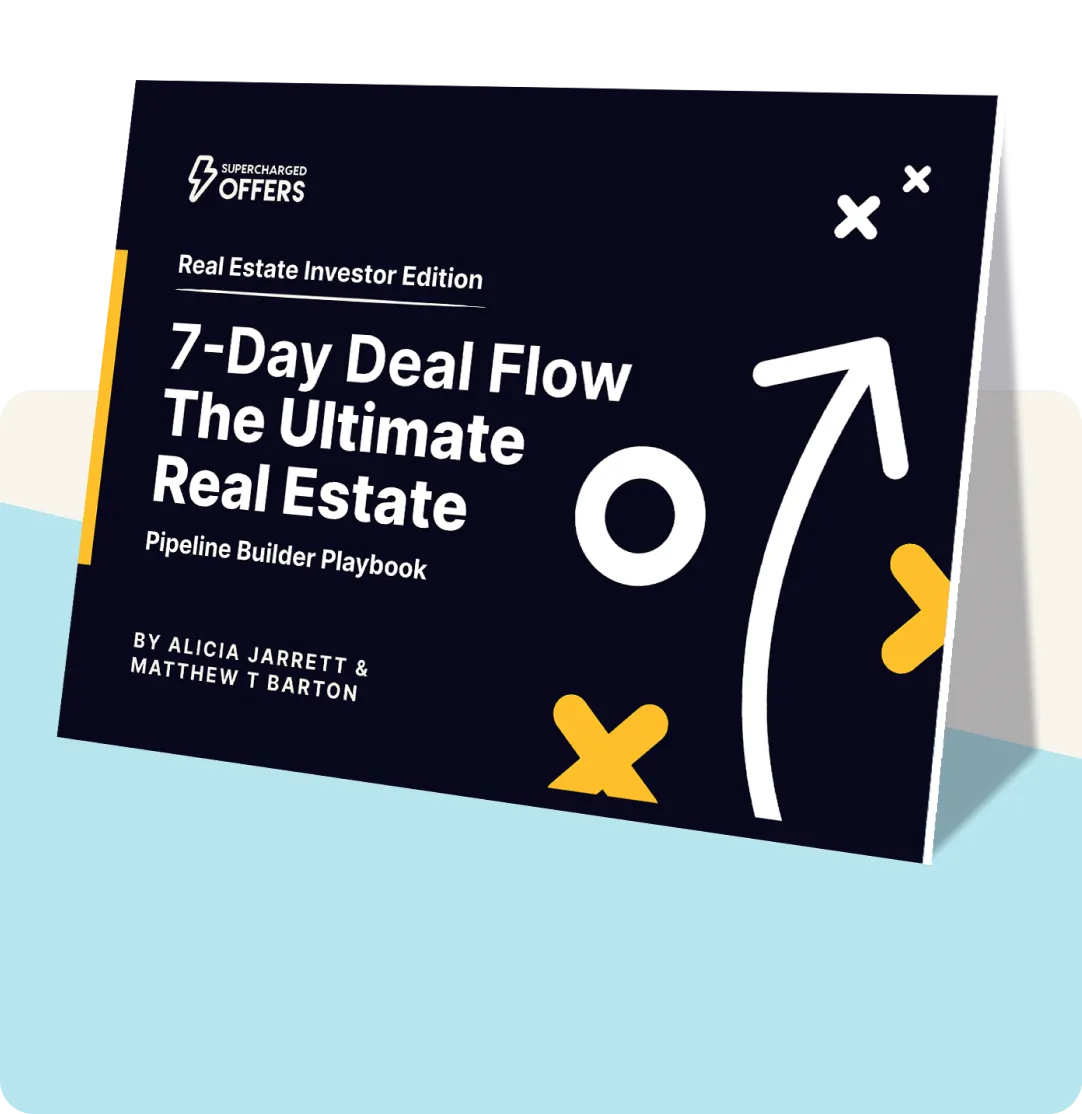 Transform Your Real Estate Investing Success And Build A Thriving Business Within A Few Clicks
Fast-tracked my land business start-up.
Colin - CGM Land
It wasn't always easy, but we used the system to help us grow.
Jantzen & Steve – The Plot Quad
I have already 5x my return on investment!
Brent Bowers – The Land Shark & Zech Buys Land
Help me create a entire system to launch my self storage business.
Colin – Valor Self Storage

My very first campaign was amazing, for every $1 I spent I got $7.50 back which was an amazing return on my investment. I'm now a long time repeat Customer of Supercharged Offers. Thanks Matt and Alicia.

Matt, Alicia and the team at Supercharged Offers have helped us get 25 Deals under contract with ease. Their Acquisition-As-A-Service allows us to focus on Negotiating and Closing Deals with Sellers and grow our business. Thanks guys!
Rich and Kandi
Kandi Buys Land

"I had an idea where I wanted to test setting up an English and Spanish dual website and also bi-lingual letters and offers. It was so easy working with the Supercharged Offers team to achieve this. I'm very happy with my branding, data management and the ease of which my acquisitions are now working. Very impressed with their service!"
Maria Simon
Castillo Real Estate
Ready To Skyrocket Your Real Estate Business Success And Achieve Consistent Growth!
Join our exclusive Supercharged Offers Success Seminar and unlock the secrets to building a profitable real estate business with ease. Our proven system can help you achieve steady growth, save time, and increase profitability. Don't wait, register now to take your real estate business to the next level.